Become a Marriage Mentor couple.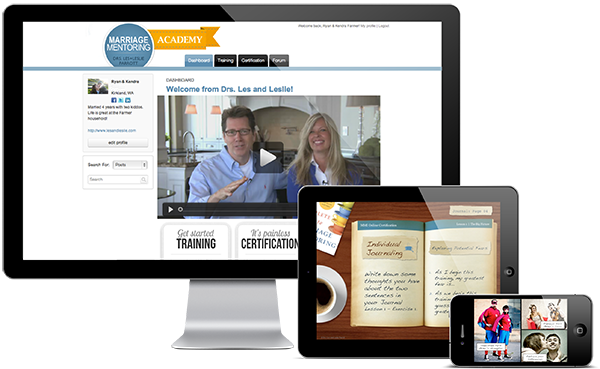 At the beach.
On the bus.
Anywhere. Anytime.
Mentor training for the way you live: on the go, on your favorite device. Become a Marriage Mentor couple today. It's easier than ever.
Get started today for only $59.
Reseller plans

Features

Learn 12 Essential Skills
Completion Certificate
Connect in Community Forum
Q&A Through Video Chat
Access to Mentor Guides
It's fun – like going on a date.
Each session is paired with movie and dinner recommendations so you can make it a date night. Plus with discussion opportunities you'll love these times together.
Don't worry, we do the paperwork.
After completing your online training sessions, we'll send you a certificate to recognize your achievement. As a matter of fact, we'll email it to you automagically.
We'll be with you all the way.
Once you're a certified mentor couple, stick around. You're just scratching the surface. We're going to make sure you're a big success with forums, webinars, apps and tons of other helps.
Fly solo or with a group.
The Academy scales to meet your needs – whether a single couple, a small group, or a class. You'll love the newfound flexibility of our online training. DVDs are so 2005.